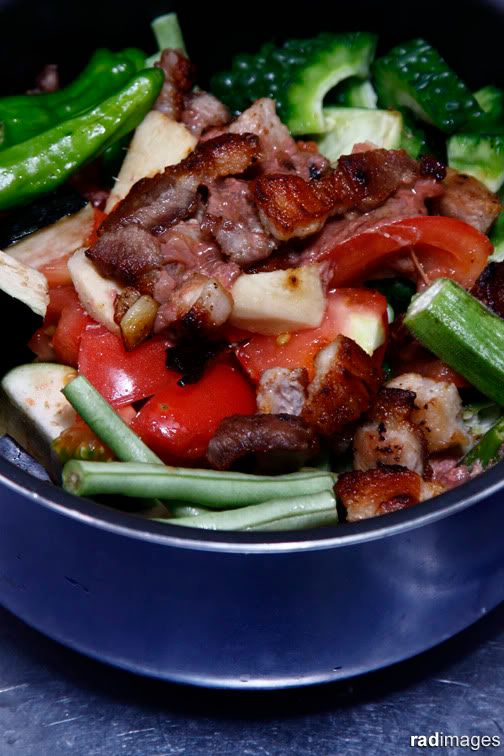 The
Pinakbe
t is from the Ilocano word "pinakebbet" meaning "to shrivel" or "shrunk". It is a popular dish from the northern part of the Philippines which has become as popular in other places as well and with their own version. This version is what my parents taught me.

You can use just about any vegetable in it but the the most commonly used are string beans, bitter gourd, eggplant, okra, winged bean, chili peppers, winged beans, alukon (
Aleanthus luzonicus
), and malunggay fruits (seed and pulp). When we arrived from our trip, somebody left a bag full of veggies at our door. I was so happy to find chilli peppers, string beans and eggplants. String bean is not easy to find from these parts so I immediately told Rad to buy additional veggies to make pinakbet.

There are many versions on how to cook pinakbet. Some prefer to sautee the veggies but my parents said that the real pinakbet is to put it all together and to just let it simmer till the veggies shrink.

Ingredients:
string beans (about 8-10 strings) cut into 2-in length
1 eggplant, sliced
1/2 bitter gourd (I bought a big long one. We usually use the tiny round ones in Ilocos)
5 okra
5 chili peppers
2 big tomatoes, pulped, or cut
2 tsp bagoong (we have the shiokara (塩辛) here. it is milder than the normal Ilocano bagoong)
1/4 ginger, julliened or just cut


Directions:
Put all ingredients in a pot. You can dilute the bagoong in water but make sure that there won`t be too much liquid to simmer the mixture in. I always see to it that the total liquid won`t exceed half of the height of the mixed veggies. My mom always said to put a bit of salt in the tomatoes and mash and squeeze with your hands to get the juice out.
Cover and simmer for about 10 minutes or less. See if the veggies have been cooked enough. Add salt to taste. If you have to mix the veggies, mix them before cooking it. Don`t mix it while it is simmering, it will bring out the bitterness of the gourd. If you have to, then just toss it holding on to the handle of the pot. With the lid on of course.

I added some pork slices which I fried in its own fat beforehand. You can also put in fried fish or grilled fish or shrimps.And of course, the best would be to put in bits of
chicharon or bagnet
.

I don`t use MSG in my cooking but some prefer to put a dash of it in.

In the Tagalog version of Pinakbet, slices of kalabasa or squash are added.

Note: The photo above is the uncooked version, with Rad`s watermark and not the usual "mangantayon" mark. Cook it then, mangantayon!